Hi y'all and hello from Bali!
Been back here in Indonesia and mostly away from social media for a week now, time flies huh. I've never tried to have a blog before and suddenly realised I hadn't posted anything for ages.
So..
I thought I'd share these photos of me and my five little friends here at Villa Narnia in Seminyak, they are the sweetest and I miss them so much when I'm back in London.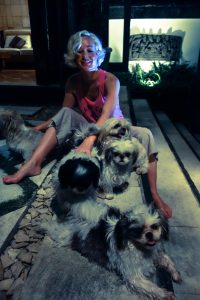 All went well with the Bali Ball, a charity event in aid of the orphans. Had fun, met some lovely people, played some music and not to forget, made some money for a good cause.
Oh, and I got to wear the diamonds!!
TTFN – Kx
PS one more doggy pic…