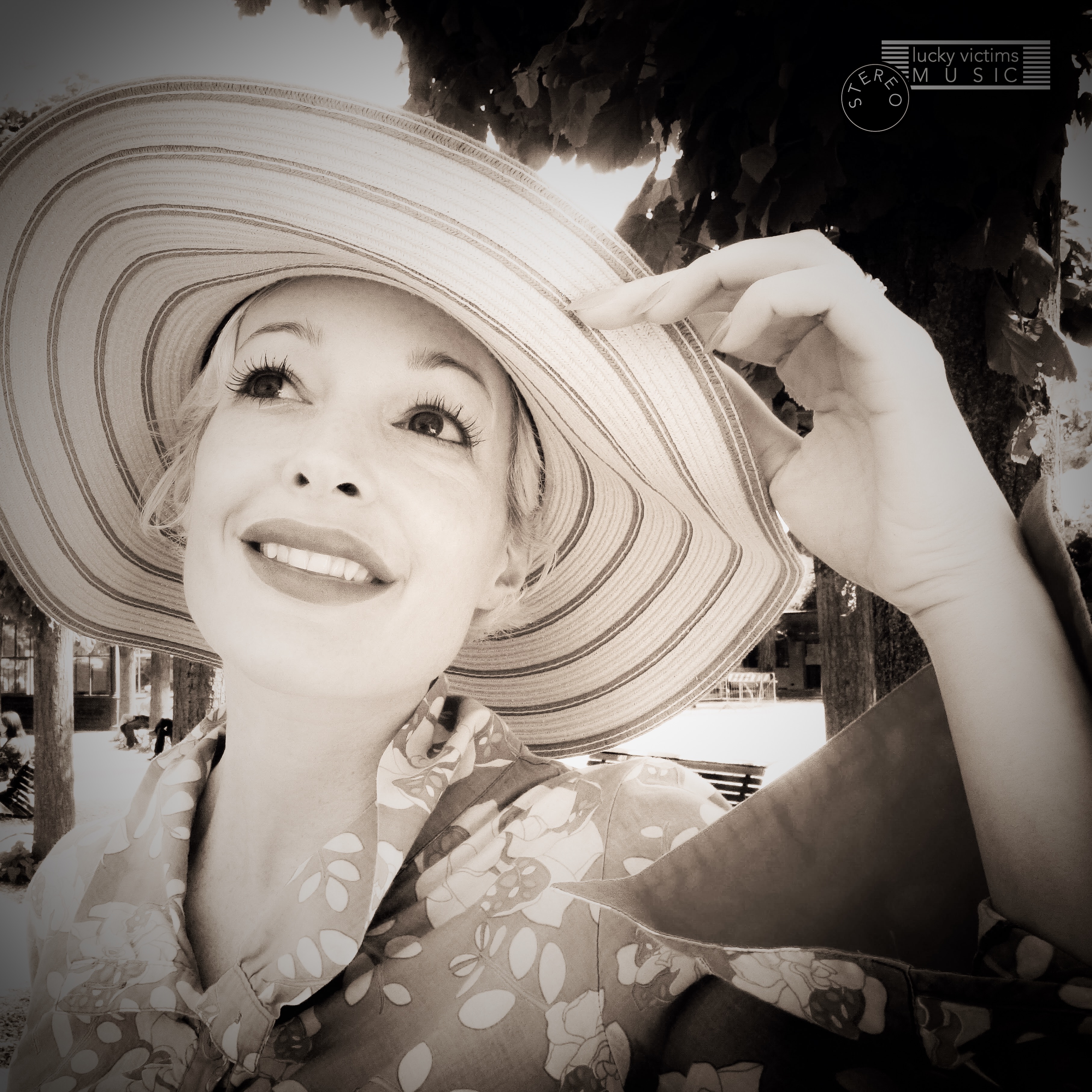 Skylark
This 2015 EP of four songs recorded at Abbey road studios comprises compositions from Hoagy Carmichael and Duke Ellington, as well as the first recording of an original tune "Nemo" by Kitty's long time collaborator Nick Shankland.
Listen now
Buy it now at
Tracks
1. Skylark 3:48 – Hoagy Carmichael/Johnny Mercer
2. Nemo 5:20 – Nicholas Shankland
3. Mood Indigo 4:31 – Duke Ellington/Barney Bigard/Irving Mills
4. Around The World 3:26 Victor Young/ Harold Adamson
Kitty LaRoar – vocals
Nick Shankland – piano
Recorded at Abbey Road Studios 2015
Produced by Nick Shankland
Review
Jazz in Europe
This EP of 4 songs from Kitty La Roar and Nick Shankland opens with 'Skylark', the 1941 song with lyrics by Johnny Mercer and music by Hoagy Carmichael. Considering the history of the song (the words were allegedly written by Mercer after his affair with Judy Garland) and recordings which have been made since, by such luminaries as Bing Crosby, Glenn Miller, Sonny Rollins, Linda Ronstadt and Boz Scaggs, this was a brave choice but as usual, Kitty and Nick have put their own inimitable twist on the standard and made it somehow their own.
Kitty uses it as a vocal vehicle on which to ride the scales and octaves whilst Nick Shankland backs up with intuitive and at times demonic piano playing, trills, heavy chords and rivulets of sounds filling all the spaces and adding ever increasing depth and form to the song. Kitty scats with abandon partway through but just reins it in enough to maintain the structure and tone of this gorgeous number. The number was recorded at Abbey Road Studios, London.
'Nemo' was written by Nick and opens with a piano motif, to which the tune returns frequently, with sumptuous vocals telling the story of lost love, the songstress observing couples, reminiscing, deciding to go solo but the lyrics tell us it is impossible to walk this earth alone and the lyrics emphasise the story beautifully, with just enough of a melancholy touch but never losing the grip of the lines. A lovely, emotive piano interlude breaks into the song half way through before the vocals once again describe the haunting of a past love. This is a beautiful song and beautifully delivered.
Mood Indigo is a swingy, bluesy number, the original written by Duke Ellington and Barney Bigard in a rare collaboration. Lyrics are by Irving Mills and Nick and Kitty take it, play with it, slide up and down with breathless lyrics interposed with clever vibrato notes and some impressive be-bop scat from Kitty. Nick changes the rhythm on piano, introducing the essential Ellington element –not quite the jungle rhythm but almost and this number is fun, sumptuous, rich and cheeky.
Harold Adamson and Victor Young's 1956 song 'Around The World' is given a decent airing to close the EP and Kitty's vocals do the song justice. Connie Francis' version is possibly the best known but this version, had it been around at the time, would give it a good run for its money. Kitty's voice suits the range perfectly and Nick's supportive, subtle and thoughtful piano work creates a good foil to the clarity of the notes and lyrics. His lyrical solo and background key work adds movement to what is a very basic structure. Once again, the pair take it and make it their own.
Whether you are familiar with Kitty la Roar and Nick Shankland's work or new to it, this EP on 33Jazz records serves as the perfect introduction or the perfect addition to your collection of their work. Cleverly worked, beautifully and musically delivered, Nick and Kitty have once again chosen carefully, worked the songs to give them their own twists and tweaks and given the listener something which in turn surprises, delights and simply shows what good, well delivered jazz songs should be.
Sammy Stein February 2016