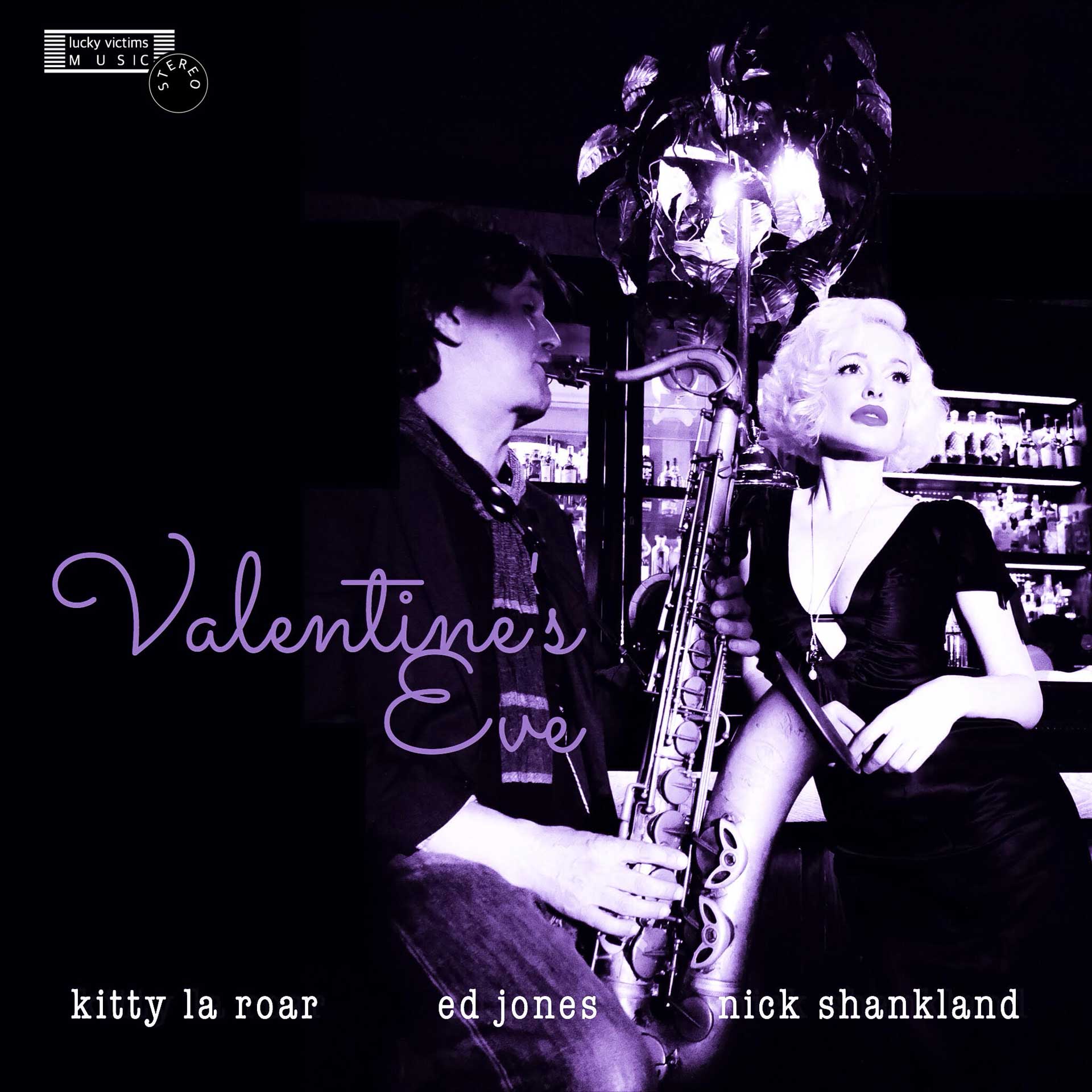 Valentine's Eve
Kitty's new trio recording is an album of yearning love songs, including the debut of four original compositions. This album features renowned British saxophonist Ed Jones, as well as long time collaborator Nick Shankland at the piano. An organic record of exquisite musical interplay and sonic blend, expect the music to evoke memories and trigger emotions.
Listen now
Buy it now at
Tracks
1. Last Year's Valentine 4:16 – Nicholas Shankland
2. I Only Have Eyes For You 6:11 – Harry Warren & Al Dubin
3. Love is All 5:58 – Nicholas Shankland & Andrew Charles Tucker
4. I'm in the Mood For Love 5:23 – Jimmy McHugh & Dorothy Fields
5. In a Sentimental Mood 6:27 -Duke Ellington & Manny Kurtz
6. Seventh Heaven 4:32 – Nicholas Shankland
7. The Nearness of You 5:35 – Hoagy Carmichael & Ned Washington
8. My Funny Valentine 5:08 – Richard Rodgers & Lorenz Hart
9. Tender Tonight 4:11 – Jennifer Caroline Harrison
Kitty LaRoar – vocals
Ed Jones – tenor saxophone
Nick Shankland – piano
Recorded at Quiet Money Studios 2016
Produced by Nick Shankland
Review
Jazz In Europe
The album kicks off with Shankland's self-penned 'Last Year's Valentine' with a cool intro from piano, followed by sax with the vocals entering over a swingy, rolling beat. The arrangement is balanced and creates a dialogue between the voice and tenor sax as the story of the song unfolds. A gorgeous, breathy sax solo echoes the beautiful, sensual vocals and is woven around the intricacies of Shankland's playful piano. The second number is Warren/Dubin's 'I Only Have Eyes For You'. Given this was written in 1934 and has been covered by luminaries such as Art Garfunkel and Peggy Lee, this has a retro feel and is sung with emotion and feeling. Kitty draws back some of the longer notes to add a sense of tongue in cheek quirkiness which off-sets the somewhat over sweet lyrics. A great interpretation with the sax soaring under, over and around the vocals and a lovely sax and piano echoed theme introduced as a middle section making this song so much more than the short, trite song it could be. Given the trio's treatment it becomes much more than that, even with a little Bacharach/David's 'Alfie' thrown in and a vocalese part added for good measure. Shankland/Tucker's 'Love Is All' is cool, collected but by no means calm. There is a brooding drama about this piece which introduces a different mood and shows off the explorative essence of the trio. The three musicians each have a complex part and the trick is in how they weave around each other. Crafted around the piano chords, it is clever and atmospheric.
Then comes McHugh/Fields' 'I'm in the Mood For Love'. Slowed down, sexed up and verging on downright sleazy, this is wonderful and makes a great contrast with the preceding piece. As expected, the trio make the song their own, adding little nuances, an arrangement madder than a box of frogs and produce something which just makes you smile. Shankland's piano solo is a delight as his fingers trickle their way up and down the keys. You think you know this song – but that was until this lot gotta hold of it. The fifth track is Ellington/Kurtz's 'In A Sentimental Mood'. The playing arrangement here is reminiscent of Ellington/Coltrane's collaborations on this song but of course with a twist which is all the trio's own. The vocals come in over the piano which introduces the song. Vocally, this is possibly the highlight of the CD as Kitty eases up to the high notes and makes the melody speak to the listener, pouring emotion into the words. Ed Jones' sax gives the listener a lesson on how to interpret good music and make it great. Lovely.
Shankland's 'Seventh Heaven' is a story of love, expectation and tenderness, sang with emotion and cleverly arranged around the three musicians, giving each a vehicle on which to shine.  Carmichael/Washington's 'The Nearness of You' is a gorgeous song and conveyed in beautiful fashion. Kitty, with her expressive, sultry vocals, is well suited to this song and boy, does she deliver. A terrific interpretation of this number. Rodgers/Hart's 'My Funny Valentine' is the penultimate track and introduced by tenor and piano, over which Kitty enters with the familiar song made new by the trio's interpretation and some magnificent support from the piano. Jones' sax once again provides an excellent solo and interpretive playing.  Harrison's 'Tender Tonight' is the final track and a great way to end the CD with an up-beat, lilting song, perfectly suited to Kitty's voice and personality with that controlled slurring playfulness she can do so well.
What comes across loud and clear is the careful choice of material, the clever way each musician is used, and the generous arrangements which allow each to soar or support as appropriate. The stories are told, with emphasis, emotion and a development which shows respect for the music itself.
I have heard earlier recordings of Kitty and Nick. I have also seen them live and they are exciting not only because of the quality they deliver but because of the on-going stylistic maturing and gelling happening in their music.
This Cd was recorded at Quiet Money Studios, the South Coast Studio of Four times Grammy Nominated and Classical Brit Award winning Producer and Musician, James McMillan and the production is pretty much on the ball. It captures everything – the breathiness of the vocals and sax at times, the fading of some of the longer notes and the constant driven rhythm of the piano. Yet that is what makes this a great CD because it is as it is, artisan with little tweaking or over production. Kitty's voice is maturing and she has the timbre of a practiced and careful jazz songstress, yet there is a sense of more to come. Nick's piano is, as ever, consistent, clever and totally in tune with the different numbers and Ed Jones' sax positively comes into its own. Ed has been around for some time and is a terrific sax player. Here he soars- and is given the space to do so with the generous inventions of the arrangements. Good call. With this album there is a sense of development in the music and that the musicians are finally finding their true ground, particularly Kitty with her vocals. There is a familiarity in the formatting but this is fine and the standards covered work but the self-penned numbers stand out in term of arrangement, whispering possibilities of only better to come. This trio work together, they create music which is familiar yet quirky and individual so, put your hat on, warm up your ears and settle down for some really cool, interesting listening.
Sammy Stein May 2016
Order your signed copy here:
You can add additional copies from your basket